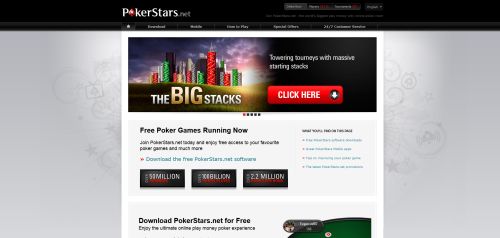 About Poker Stars
Poker Stars is the biggest online poker site in the world. It has the most players, the most games and they offer more poker variations than any other site. Whatever type of poker you prefer, whatever stakes you like to play for and whatever format you're interested in, you'll find it at Poker Stars.
There is always a tournament going on at Poker Stars, including their weekly Million event. They also have a ring game available at any time. And with so many players at the site, there is never a long wait for a table to fill up and a game to begin.
Poker Stars also offers all the advice and instruction you might need. There are written tutorials as well as videos for every game that they offer. If you want to try out a game before you gamble on it, Poker Stars also has many games and tournaments that are free to enter.
At any hour of the day, there are so many players at Poker Stars that tournaments fill up very quickly. So when the time to enter an event arrives, you need to be ready to sign up immediately. Otherwise, you might find that all of the entries for the event are already taken.
Games at Poker Stars
Poker Stars offers 18 different poker variations, including such combination games as H.O.R.S>E., 8-Game Mix and Triple Stud. The latter is a combination of Stud High, Stud Hi/Lo and Razz. You can also play Hold 'em/Omaha, which is a combination of the two most popular games, Texas Hold 'em and Omaha.
Poker Stars offers a total of six different versions of Omaha, including Omaha Hi/Lo. That game is also known as Omaha 8, since there can only be a low hand if the community cards include at least three cards that are 8 or lower. If there are three lower community cards, the player who can form the best low hand will divide the pot with the player with the best high hand.
Ways To Play at Poker Stars
In addition to their weekly Million tournament, Poker Stars has big money events all weekend and plenty of other lucrative tournaments throughout the week,. It doesn't matter what format you prefer-Turbo, Super Turbo, Deep Stacks or something else-Poker Stars has it on their schedule.
Poker Stars also has buy-ins to fit all players. There are tournaments with entry fees well under 1.00. There are also events that have large buy-ins for high rollers.