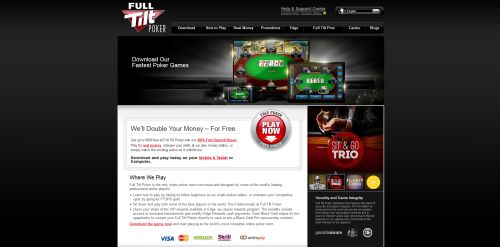 About Full Tilt Poker
This site has been one of the busiest and most successful online poker rooms for many years. It features many different games played in many formats. Frequently, Full Tilt also comes out with new ways to play your favourite games, giving you as wide a selection of poker as you could possibly desire. Whatever game you want to play, whatever format you seek and whatever buy-in you want to make, you'll find it at Full Tilt Poker.
Games at Full Tilt Poker
There are more than a dozen different poker games you can choose from at Full Tilt. Naturally, you can find Texas Hold 'em at the site and you can also play several different Stud Poker games, including 5-Card, 7-Card and 7-Card Hi/Lo. There are also several versions of Draw Poker, including 5-Card and Badugi. There are also a number of low-hand games, including Razz, 2-7 Single Draw and 2-7 Triple Draw.
Full Tilt also offers five different versions of Omaha. They include Omaha Hi, but you can also play such other variations as 5-Card, 6-Card and Courcheval. These games either vary the number of cards dealt or change the structure of the betting rounds.
One other Omaha game you can play at Full Tilt Poker is called "Omaha 8," also known as hi/lo. This game divides each pot between the high and low winners, though if there is no qualifying low hand, the high winner collects the whole pot.
Ways to Play at Full Tilt Poker
Full Tilt Poker offers you all of the conventional ways to play, including ring games, sit & go tournaments and multi-table tournaments. But there are more than a dozen formats to choose from, including Rush Poker. This is Full Tilt's version of the game in which you are moved to a new table and a new hand every time you fold your cards.
At Full Tilt, you can also play Speed games, Ante games, and Cap games. You can also begin a game with a lot of chips at "Deep Stack" tables. You can also play an opposite format, "Shallow Tables," in which you begin with an unusually small amount of chips. There is also an extreme version of this format, Adrenaline Rush Poker, which only gives you between five and ten big blinds to start. In Adrenaline Rush Poker, each hand has only two choices, fold or all-in, and all bets must be made before the flop.