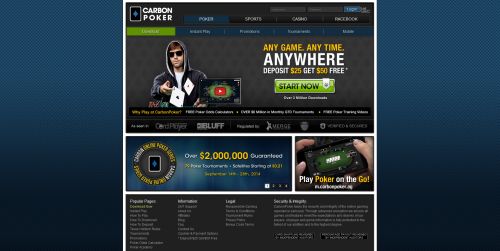 About Carbon Poker
One of the most popular gambling sites on the internet, Carbon Poker offers many different ways for you to play the game. Whether you prefer regular tournament formats, sit & go competition or cash games, you'll find it at Carbon. You'll also be able to play at whatever level of action you want, from high stakes games to freerolls.
If you're new to poker, or just want to refresh your knowledge, Carbon Poker also provides you with a good deal of help. You can utilize their free poker odds calculator which will greatly assist you in forming your playing strategy. You can also view their poker training videos, which are also free. They will explain any poker variation that you are interested in and will show you the most successful ways to play that version of the game.
Games at Carbon Poker
Texas Hold 'em is the most popular game at Carbon, as well as every other internet poker site, but you have plenty of other choices. You can play Five or Seven Card Stud, plus Seven Card Stud hi/lo. Other games include Badugi, Razz and Triple Draw Lowball.
Carbon Poker also offers two versions of Omaha. You can play the regular Omaha "high" game which usually offers pot limit betting. You can also play Omaha hi/lo. This game is also known as "Omaha 8" because there can only be a winning low hand if there are at least three community cards of 8 or lower. Most versions of Omaha 8 are played in either a pot limit or a forced limit format.
Carbon Poker also offers a number of non-poker "Side games" that you can play. These include such casino favourites as Blackjack, Roulette, Video Poker, Backgammon and Caribbean Stud. The side games at Carbon Poker are accessible under the "Other Games" tab in the casino lobby.
Ways to Play at Carbon Poker
In addition to the regular Cash games and Sit & Go competitions, Carbon Poker offers more than 6,000,000.00 every month in guaranteed poker tournaments. You can enter these big-money events directly, but you can also win your way into them by playing in satellites that cost very little to enter.
Carbon also has freerolls in which you can win seats into sit & go events. There are other freerolls that offer other prizes to Carbon Poker members, including tickets to major sporting events.