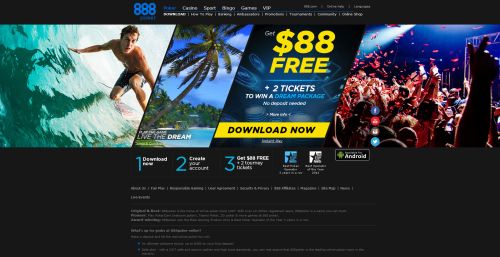 About 888 Poker
Among all online poker sites, 888 Poker has one of the easiest lobbies to navigate. It doesn't matter whether you're a beginner or a high stakes player. Whatever type of game you're looking for, you'll have no trouble locating it at this casino.
It's not necessary for you to go through the long list of upcoming tournaments or tables to find the game you want. Just press the "Quick Seat" tab in the 888 Poker lobby. You'll then choose the type of game you're looking for-cash game, tournament or sit & go-decide the stakes you want to play for and pick how many players you want to play against. 888 Poker will quickly find you a seat and you can begin playing immediately.
Games at 888 Poker
This is not the poker site for you if you're a fan of such lesser-known games as Razz, Badugi or any combination game such as H.O.R.S.E or 8-Ball. The site only offers a handful of game variations, with most of the action in Texas Hold 'em, At any hour of the day, 888 Poker offers you dozens of ways to play that most popular game.
You can also play 7-Card Stud and Stud Hi/Lo at this site, as well as Omaha and Omaha Hi/Lo, which is also known as Omaha 8. The latter is one of the most popular poker games because it offers more chances to win. If any player can form a hand with five different cards of 8 or lower, the pot is split among the best high and low hand. That makes it similar to Stud Hi/Lo, but it's easier to win in Omaha 8 because you get more cards-9-to form your hand.
Ways to Play at 888 Poker
888 Poker offers some big money tournaments every week, especially on the weekend. If you want to play in one of those events but don't want to spend the full amount for a buy-in, you can try to win your way in by entering a satellite. Depending on the stage of qualifying you choose, you can spend very little or even no money to enter the competition.
You can also take advantage of 888 Poker's advanced software by playing "Multi-hand" games. You can play in more than one tournament at a time, or play in multiple ring games. 888 will give all of your games a separate window and each one will open up for you when it is time for you to play.
Looking further at what 888 offer
888 offer much more than online poker, they offer a sports betting, casino games and bingo. The casino review at LatestCasinoBonuses.com shows many positive comments about the other gambling options they offer.r.